© Copyright 2000, CME
OXYGEN TEST STANDS
The Model OTS-567B is a Portable Oxygen Test Stand used for performing acceptance tests on breathing regulators of the 100% oxygen, diluter—demand and positive pressure types. The OTS-567B automatically sets the altitude and flow rates at user programmable values and generates reports with pass/fail results.
---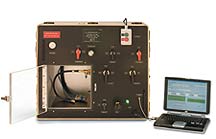 A standard PC is used for logic control, data reduction and for operator interface, allowing tests to be performed with state-of-the-art technology.

The computer calculates the altitude, flow/leak rate, outlet pressure/suction and the ratio of added oxygen to the total flow (for diluter–demand regulators.) Automatic conversion to equivalent oxygen gas flow and equivalent percent-added oxygen prevents the potential for errors commonly made when calibration graphs, tables or charts are used. Test data can be displayed on screen, saved in electronic format or printed if a hard copy is desired.
---
FEATURES
• Significantly reduces testing times compared to manual stands
• Automatic setting of flow rates and altitudes
• Portable
• On screen operation instructions and prompting
• Less operator training
• Automatic Accept/Reject determination
---
Check with factory about Custom Built Stands

---
---
•Smart Digital Flowmeters •Analog Flowmeters •Digital Flowmeters •Oxygen Test Stands
•Smart Portable Gas Flow Calibrators •Smart Lab Flow Calibrators •Laminar Flow Elements
---
CME, A Division of Aerospace Control Products
1314 WEST 76TH STREET, DAVENPORT, IA 52806
TEL: (800) 845-0927 • FAX: (563) 391-9231
E-Mail: info@cmeflow.com
---